The new ASFA Guidelines for therapeutic apheresis treatment are now available. Here's why you need to get your hands on them today!
the
standard document that professionals in this field refer to when faced with a patient who may need treatment. One of the co-editors of the "Special Issue" (as it is also called), Dr. Nancy Dunbar, joins me to explain what you need to know about the new guidelines.
"But I Don't Do TA, Joe!"
In many facilities, services other than Transfusion Medicine oversee therapeutic apheresis (most commonly neurology, hematology, or an outside contracted TA service in the U.S.). As a result, it's easy for those who work in facilities like that to say, "not my problem!" and in many respects, that is fair! However, it's highly likely that patients who need these procedures will require resources that will impact those of us in laboratory settings. For example, a patient with Thrombotic Thrombocytopenic Purpura (TTP) may require massive amounts of plasma every day for their exchange procedure. In addition, in other cases, a physician may want to use plasma as a replacement fluid in a TA procedure, but the Guidelines suggest albumin instead. These guidelines are very useful, and so should be a part of every laboratory's reference library. Hematologists and other clinicians involved in ordering these procedures should keep them handy, as well.
Learner Alert!
Finally, pathology residents, blood bank fellows, advanced laboratory science students (like SBBs), and learners in clinical medical fields also need to be aware of the information in these guidelines, as they cover information that is expected knowledge in certification exams.
This month, the American Society for Apheresis (ASFA) released a new version of their epic document called "Guidelines on the Use of Therapeutic Apheresis in Clinical Practice" in the Journal of Clinical Apheresis. This magnificent opus contains 84 individual fact sheets outlining treatment strategies for diseases treated by therapeutic apheresis (TA). It is, in many ways,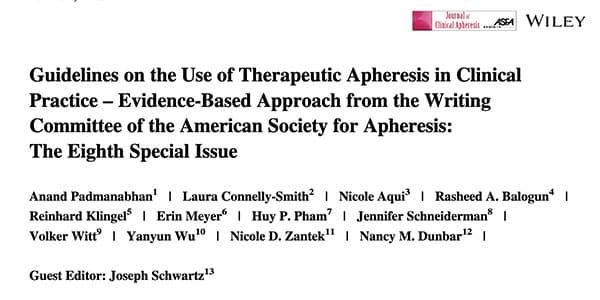 About My Guest:
Nancy Dunbar, MD, is Medical Director of the Blood Bank at Dartmouth-Hitchcock Medical Center in Lebanon, NH. In addition, she is an Associate Professor of Pathology and Laboratory Medicine at Dartmouth, and the Associate Program Director for both the Pathology Residency Program and the Transfusion Medicine Fellowship. Dr. Dunbar is a very active researcher, and has received numerous honors for her scholarly activities. She has published over 50 original articles and reviews in Transfusion Medicine journals, and has authored several chapters in standard textbooks (including the AABB Technical Manual). She teaches regularly to learners at Dartmouth and numerous other facilities.
DISCLAIMER: The opinions expressed on this episode are those of my guest and I alone, and do not reflect those of the organizations with which either of us is affiliated. Neither Dr. Dunbar nor I have any relevant financial disclosures.
Thanks to:
Music Credit
Music for this episode includes "Cuando te invade el temor" and "Reflejo," both by Mar Virtual via the Free Music Archive. Click the image below for permissions and license details.