Your Patient Blood Management program can be so much more! Carolyn Burns shows you how to make wiser PBM choices today.
everyone
is talking about patient blood management (PBM) nowadays! While that's a very good thing, many facilities may be missing the mark with their programs by focusing on only one or two aspects of PBM. In 2018, the
Society for the Advancement of Blood Management
(SABM) published "
Five Things Physicians and Patients Should Question
" about blood and transfusion through the "Choosing Wisely" campaign from the ABIM Foundation. This document (which you should download now. Seriously.
Get it now
!) outlines five really common hospital practices that should be addressed in any PBM program (and I'm willing to bet that most facilities are not addressing all of them).
Backing Up For a Second
There's a pretty good chance that whatever your PBM program looks like, it could do much MORE. If you are monitoring transfusions for appropriateness, for example, how about diagnosing anemia earlier so that transfusion isn't needed at all? Or what about using antifibrinolytics to stop bleeding before a patient even gets to the point of transfusion? Or, and this is a big one, does that patient REALLY need those daily lab draws? All of these issues (and more) are things that SABM believes all facilities should do better, and that's the point of this interview.
My friend Dr. Carolyn Burns is a SABM Board Member, and an independent consultant for Patient Blood Management initiatives. She was intimately involved in developing the Choosing Wisely document. Carolyn joins me for a quick-moving discussion of some overall philosophies of PBM, and discusses each of the five questionable practices in detail.
It feels like
To me, the use of plasma outside of an exsanguinating hemorrhage protocol or for therapeutic plasma exchange for TTP…isolated orders for plasma should be questioned. They should be thought about very, very carefully, because most often they're not needed.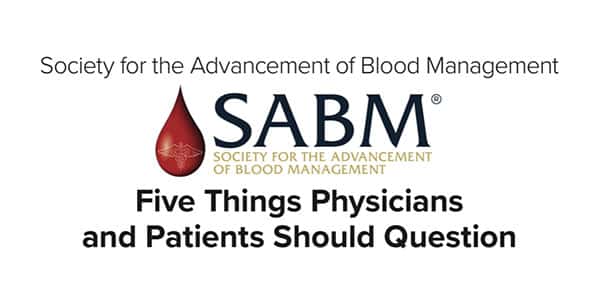 About My Guest:
Carolyn Burns, MD is a Board-certified Anatomic and Clinical Pathologist. After earning her Microbiology degree from the University of Kansas, and her MD from the University of Missouri, Dr. Burns completed an internship in General Surgery followed by Pathology residency at the University of Louisville. She was Chief of Pathology for the Jewish Hospital Healthcare System Department of Pathology in Louisville, KY from 1991-2011. She has previously been an Assistant Clinical Professor in the Dept. of Pathology at the University of Louisville and on the Advisory Board and guest lecturer for the Bellarmine University Clinical Laboratory Science Program. Carolyn currently serves as a physician advisor for the American Red Cross Blood Center, River Valley Region.
Dr. Burns is an active member of several medical societies including AABB, College of American Pathologists, American Society of Clinical Pathologists (where she serves on the Education Committee), and the Society for the Advancement of Blood Management (SABM) where she serves on the Board as Treasurer and is the editor of the SABM Newsletter. Dr. Burns is a board member, as well, for the Kentucky Association of Blood Banks.
Dr. Burns is a passionate advocate for Patient Blood Management, has been published in peer-reviewed journals and textbooks, and is often sought as an engaging speaker on diverse transfusion topics.

This podcast episode offers a FREE continuing education activity where you can earn the following types of credit: 1 AMA PRA Category 1 CreditTM, 1 ASCLS P.A.C.E. ® Contact Hour (including Florida Clinical Laboratory Credit), and American Board of Pathology Self-Assessment Modules (SAMs) for Continuing Certification (CC, formerly MOC).
To receive credit and review the accreditation information and related disclosures, please visit Transfusion News Continuing Education on Wiley Health Learning.
DISCLAIMER: The opinions expressed on this episode are those of my guest and I alone, and do not reflect those of the organizations with which either of us is affiliated. Neither Dr. Burns nor I have any relevant financial disclosures.
Music Credit
Music for this episode includes "Cuando te invade el temor" and "Reflejo," both by Mar Virtual via the Free Music Archive. Click the image below for permissions and license details.