is
an issue:
HLA-matched platelets
Crossmatched platelets
HLA antigen-negative platelets
Clinicians and blood bankers alike often struggle to find the "best" answer to getting a product that will work well for a refractory patient, without waiting for days to do it! Dr. Kopko has a wealth of experience that includes her history of being both a hospital transfusion service medical director as well as a medical director for a large blood center, so she clearly understands the issue from both hospital and blood center perspectives. Dealing with platelet refractoriness can be complicated, but Dr. Kopko outlines her strategy to get a product with maximum benefit to the patient as quickly as possible. In fact, you may find that the quickest way to get an effective platelet product in a refractory patient may not be the option you might have thought! Her views on HLA-matched platelets and their utility in modern platelet transfusion practice may also surprise you!
Use the player above to listen to episode 002 of the BBGuy Essentials Podcast.
Get the transcript of this episode.
DISCLAIMER: The opinions expressed on this episode are those of my guest and I alone, and do not reflect those of the organizations with which either of us is affiliated. Neither Dr. Kopko nor I have any relevant financial disclosures.
Reference: Kopko PM et al. Methods for the selection of platelet products for alloimmune-refractory patients. Transfusion 2015;55:235–244.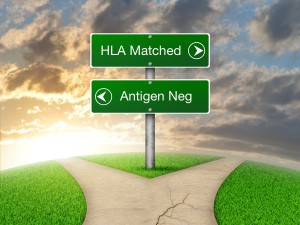 Dr. Pat Kopko from the University of California-San Diego talks with Dr. Chaffin about a practical approach to patients with platelet refractoriness. This is an enormous issue that is an especially big deal in hematology/oncology and other multiply transfused patients. Dr. Kopko takes us through three main strategies for addressing this issue, once you know that it actually